We Paint Here, There & Everywhere!
If you're interested in painting, but need us to come to you... no problem! We'd love to paint at your place! We regularly visit schools, hospitals, businesses and churches to bring the painting to you.
At School...
Color Me Mine offers in class painting projects, after-school enrichment, holiday projects and FUNdraising! Contact us for more information at 847-252-9300.
At Work...
Have you been looking for a way to treat your staff to some fun? An office party or team building exercise? Have you thought about attempting to be more green? We can help! We offer parties, team building and a program to help you eliminate plastic and styrofoam from your office. Contact us for more information at 847-252-9300.
Anywhere...
Slumber party... sick day... special event? Take Color Me Mine with you! Contact us at 847-252-9300.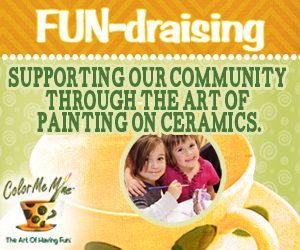 FUNdraising with Color Me Mine
We offer FUNdraising programs for schools, churches, groups and even individuals. Tell us about your cause, and together we'll design an event that fits.
Auctions! We can help you create an awesome hand painted work of art for your auction! School & non-profitable organizations auctions can benefit tremendously by having your classroom or members create a personalized ceramic piece together.  We will help you all the way through and even do the custom work for you.  The ideas are endless! Paint For Profit! Any cause, any group or individual... we'll set aside a day and time when you'll send your group to us to paint. We'll donate 20% per painter to your cause. That's it.. it's that easy!